It just doesn't seem right. Not right at all…..
Getting paid thousands of dollars for being on the lucky end of an incredible milestone.
Winning the lottery is lucky too, but at least you picked the numbers—in this case, Tom Brady gave you the numbers! And for these purposes, it was the number, 600.
600 as in Brady's NFL record 600th touchdown pass. A football which for a matter of minutes was in the possession of a lucky Bucs fan.
Correct that Bucs receiver Mike Evans caught it, he was just so caught up in the moment that he forgot about the history and tried to be nice and throw his latest TD reception to a Bucs fan. Good intentions–something we need to keep in mind here?
After that, the story gets crazy complicated…and that's where I applaud my man Byron Kennedy for getting it right!
Kennedy a 29-year-old Bucs fan initially had no idea the ball Evans gave him was such a big deal. When Bucs' officials approached him and wanted it in their possession, Kennedy initially resisted but when he found out it was such a monumental milestone he acquiesced. Well done!
My take—it was Brady's moment, not Bryon's. How do you walk away and take something you didn't earn? Personally, I would have easily have handed it over with no hesitation but I know I'm in the minority. Sure, let's not kid ourselves, I would have bargained like Kennedy for a jersey or tickets—but to keep it for thousands of dollars?
Sorry just not interested, it's not right!
I've heard plenty of my media brethren like NBC and Profootballtalk.com's Mike Florio call Kennedy crazy saying things like his wife will forever raz him about giving up an item worth at least 500,000 whenever they shop for their next house?
Don't let it get to you Byron—you did the right thing!
Brady earned it, you or anybody else who caught it should give the man the ball. It's his moment. It's his achievement.
To his credit, Brady handled this one MUCH better than Mark McGwire did after becoming the first major leaguer to hit 7o home runs. Back in 1998, then 26-year-old genetic researcher Phil Ozersky caught McGwire's big moment. At the time, the Cardinals offered Ozersky a signed bat, ball, and jersey. He said ok deal, but he also had one more seemingly easy request, he just wanted to meet McGwire.
McGwire said….no. So Ozersky backed out and three months later sold the ball for 3.05 million. Do I think McGwire was wrong for not meeting Ozersky? Absolutely…. but it just seems shady for me to see people profit off merely catching a baseball?
To their credit, Brady and the Bucs embraced Kennedy's gesture by delivering:
Two signed jerseys plus a helmet from Brady.
A signed Mike Evans jersey plus the cleats Evans wore in the game.
A $1,000 gift card to the Buccaneers team store.
Buccaneers season tickets for the rest of 2021 and all of 2022.
I've heard many say, the Bucs should have given Kennedy more? What…?
What do they want—give him a share of the team?
A lifetime contract?
Put his name in the ring of honor? for catching a football in the stands??
This is out of control.
Tompa Tommy also threw in a BitCoin to Kennedy which is worth roughly 62,000–I know about 438,000 less than the ball would sell for….but again that's missing the point.
Brady ate a lot of avocado ice cream to get to that 600 TD milestone, Bryon Kennedy just happened to be the right Buc fan in the right pewter seat at the right pewter time—it shouldn't equate to making him thousands of dollars.
Do the right thing.
Give the ball back.
Enjoy your moment but give the athlete a bigger part of his.
Give the ball back, our first stop in another winding jog around the Naborhood, as always, thanks for stopping by.
SHOE DOG: I just started teaching a fun Sports Innovation and Entrepreneurship class at Florida Southern College where I try to expose my students to a variety of approaches in terms of finding their business passion in the world of sports.. One of the books I have assigned is Nike founder Phil Knights' "Shoe Dog" which I would highly recommend to anyone sports fan or not.
Warren Buffett called it the best book he read when it came out in 2016 and I really enjoyed it on many levels. For one, it's extremely well-written and it's remarkable how much Knight recalled from his life dating back to his college days to the subsequent years of grinding out to make it all happen. A dynasty Knight created from selling shoes out of his car trunk to an amazing billion-dollar empire.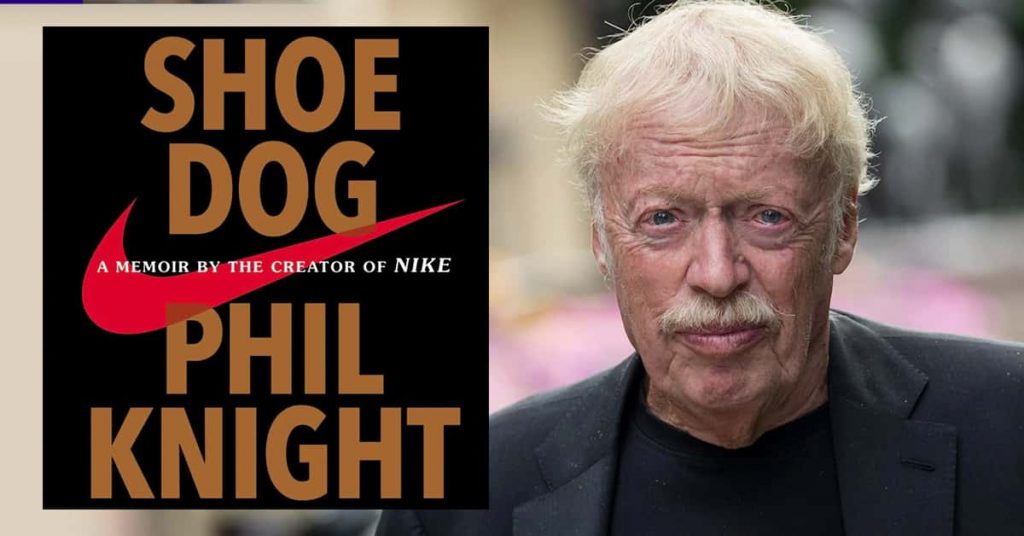 The book passes on many valuable lessons as Knight shows a lot of vulnerability in looking back at his journey. It should give a lot of confidence to anyone who puts themselves out there to start a business.
A few of my takeaways is the patience he had in overcoming several early obstacles from the many Japanese investors who took Knight on quite the roller coaster ride before he established himself on his own.
Failing is ok–Knight failed many times but it taught him a lot and made him a better businessman.
Don't take rejection personally.–It's amazing how many times nobody called Knight back or flat out told him he was crazy. It didn't deter him.
Outwork everybody– I love a quote in this book, "Beat me? You're going to have to bleed to do it!"
Knight couldn't come up with a name for his company. His first idea was "Dimension Six" which was soundly rejected by his partners when the word "Nike" came to a co-worker in a dream? Combine that with a graphic designer giving him a plethora of options for a logo. The famous "swoosh" won out after a co-w0rker told Knight "it looks like something a runner might leave in his or her wake." It takes a village….
The rest is history….amazing.
ERRANDS WITH MORA: I've had a lot of fun with the "Errands" series I created years ago. The goal is to get to know sports personalities better by running errands with them. I kicked it off three years ago with Dick Vitale and we have now produced nearly 20 episodes where the latest may be my favorite.
Jim Mora to me is one of the underrated men in the history of football. He was the winningest coach in the history of the USFL and then took over the New Orleans Saints and went on to give them five winning seasons and perennial playoff appearances. He also coached the Indianapolis Colts to the biggest turnaround from 3-13 one season to 13-3 the next.
But all many remember about Mora is his legendary "playoffs" rant he went onwhen debunking a question from a reporter about his struggling Colts' teams playoff chances.
I have been around Mora for years as he still does TV work for a local New Orleans station, WDSU, and have found him very approachable and kind, nothing like the persona which is often portrayed. Running "Errands with Mora I was left liking him even more. We went to his favorite restaurant in NOLA, the legendary Mother's and I discovered he was a big movie buff, where his favorites are.. wait for it…musicals! (who knew?)
He has fun with "playoffs" and many of the infamous rants he had in New Orleans such as "Diddly poo, you think you know but you don't know and woulda coulda shouda" but he doesn't want to be defined by that and he shouldn't. Mora told me he knows when he passes his obituary will have "playoffs" front and center and I hope that's not the case.
Jim Mora was a damn good football coach and a better man–he deserves better.
NOBODY ASKED ME, BUT…This World Series brings back great memories as my two favorite teams growing up were the Astros and the Braves for different reasons. I tell my teenage girls all the time, when Dad grew up there were no Major League Baseball teams in Florida except those teams competing in spring training.
Growing up on the east coast of the state of Florida in Titusville, the Astros trained in nearby Cocoa and subsequently had a minor league team my Dad would take me to see for years. My father, who was the county attorney also aptly negotiated a deal to have me serve as batboy a handful of times. It was a great thrill as the Astros boasted the likes of Nolan Ryan, Joe Niekro, and my favorite, future Giants Hall of Fame manager, Bruce Bochy, who took me under his wing as a backup catcher. How could you not love those uniforms….
When the Astros left Brevard right around my junior high years, the only team we could watch consistently on TV were those Atlanta Braves, so I changed loyalties. My Dad was so great, we would schedule a series every summer to go to in Atlanta. We would find out where the opposing teams were staying, so I could get autographs in the lobby?! It seemed every trip we would see something unusual from Bob Horners' four home run game in July of 1986 to the infamous Braves and Padres brawl in 1984, they are memories that last a lifetime.
They carried over to my professional life as I had a chance during my first television job in Tuscaloosa to cover several Braves playoff games too, it was fantastic.
So this year I've taken the approach, I really can't lose–just hoping for a great series!
EXTRA POINT: Did I mention the Manning's cast on Monday Night Football is the best thing on sports television….maybe ever? I wish they were on every week!
UNTIL NEXT BLOG,
Mike Nabors
@mikenabors
PHOTO CREDITS: Getty Images, Talking Chop, People.com, WCVB-TV, Mediate.com, Clutchpoints, The Twin Spires Edge & LOLWCT.